ROSAMY, THE ARTWORK – AND THE ART OF LOVING AND LIVING IT

Skapandet har alltid varit en stor del av mitt liv och lekfullheten en röd tråd genom allt jag gör. Min kreativitet närdes mycket av min far som lärde mig att skapa i allt från papper och trä till färg och lera, och min kärlek till starka färger och musik är jag övertygad kommer från hans Sydamerikanska kulturarv. En stor faschination över naturens kraft och styrkan i biologin gör att jag inspireras av företeelser i vardagen likväl som drömmar, längtan och fantasier.

Som konstnär kallar jag mig modern expressionist och i min ateljé målar och dansar jag fram mina bilder och blandar färgen med mina känslor. Tavlorna blir färgstarka och kraftfulla med ett djärvt formspråk. Älskar dynamiken mellan djup, ljus och mörker och rörelserna i motivet.

Många av mina motiv hyllar just kvinnlighet, frodighet, lust och kärlek. Att förmedla en positiv känsla och en massa power är essentiellt för mig. För jag är övertygad om att vi alla behöver omge oss med positiva visuella intryck – det ger oss näring till både kropp och själ.

ROSAMY about the art: I early on had a faschination for fantasy adventures and nature exploring comics and films. Since the nineties I worked mostly as an illustrator and graphic designer.

ull time artist since 2009 and naturally, the fantasies and dreams in my own life, leave a reflection in the stories I wish to tell with my artwork. I live on the swedish countryside near Nyköping, where I also have my studio. Initially, I painted under the signature Mammarosa, but from 2022, I present all my artwork under my real name Rosamy Cotino. Been a part of Artis Show since 2022 and I really love the dynamic of having so many new creative "family members" - art is a great tool for building bridges!

In my studio I dance, paint and play around to my favourite music while being surrounded by all the art in progress. I work at severeal pieces at the same time with many layers of paint. Exploring and inventing new paths in my creativity. Being in the moment, easily loosing all track of time – the artwork is sometimes born in a subconscious state of mind. It is an amazing feeling!

The lead characteristics in my artwork is joy, romantic passion, dynamic flow and lots of colours. With my pieces I wish to touch, inspire and empower. So naturally, as a very passionate individual, creativity flows through everything I do. My motto is to embrace life, stay curious and always continue to grow, both as an individual as well as an artist!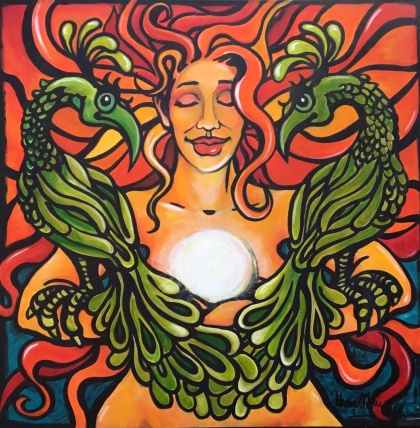 ANYTHING IS POSSIBLE 120x120 is a painting that has grown to be very meaningful to me, a manifestation of always trusting the process and a reminder that as long as your alive and kicking, there are no end to the possibilities!
2009 Galleri Aguéli/ Stockholm. 2010 "Passion" Galleri Zebra/ Södertälje. 2011 "Art in mind" Brick Lane Gallery/ London. 2013 "Love is in the air" Galleri Westerlind/ Nyköping.
2014 Stockholms Konstsalong (jurybedömd). 2014 Galleri Sjöhästen/ Nyköping. 2016 "Gott & Blandat" Galleri Westerlind/ Nyköping 2017 "Flower Power" Galleri Westerlind/ Nyköping. 2019 Art Jam/ Nyköping. 2019 "Dare to Dream" Galleri Engleson/ Stockholm 2021 "Konst på Luftkastellet" Engleson Gallerier/ Malmö
2022 Vårrundan/Kinnekulle 2022 ArtiShow CAC Mijas/Malaga.
2022 "Journey into the unknown" Galleri Stallet/Falsterbo
2022 Mårtens Hus/Nyköping 2022 Galleri Grip/ Stockholm 2022 Galleri Stenhallen/ Öland
Estetiska konststudier, Bild- & Formlinje och fristående kurser i illustration, grafisk form och måleri, Utbildningar inom sälj- och marknadsföring. Konstnär och kreatör på heltid sedan 2009.